From food to dating, the big city's abundance of choice – options, to excess – might sound like a privileged and great thing; that sure implies a lot of freedom.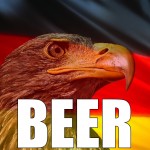 Yet recent research is showing how too much choice has a subtle impact on the mind of a decision-maker and really wrecks our ability to really enjoy our own decisions – if we're not armed for it.
Consumer psychology calls it the "paradox of choice." The idea is that too many options – say for example, for phone providers – allows for the most manipulative sales pitches screaming "Best value!" to override a person's sense for things like how much data they actually want. What's worse, too big an option-array is being shown again and again to put decision makers into a devaluing mindset, and end in less satisfaction with any choice's results – even if we're getting a great deal.
(Psst – Here's some proof.  Here's a little more.  Holy crap, here's more.  And here's more, although you probably got the idea by now and won't feel the need to click here either.  Which would prove the point entirely.)
Now consider what this means for excitement, or romance in a time where the web can show us more people in a day than Genghis Khan savaged in his lifetime. When presented with so many options, the way a mind begins to shortcut may even explain why so many nice prospects can feel put on the back burner while someone else T-mobiles their person of interest.
But fear not, the same researchers also say that the best decision makers – those choosers most satisfied with their results – will use the same general rules when making choices. And in terms of romance, chill! It turns out these same good deciders end up being the easiest to charm, if you actually interest them. The difference? It may be that they look at all their options as responsibilities more than privileges.
(And who wants to be someone's privilege, anyway?)
Unfortunately these manipulating, satisfaction-stealing effects of having too many choices are subtle. To show we can recognize and stay above them let's try a quick thought experiment:
Imagine that after once-overing and approving a quickly groomed profile, you find yourself exchanging a few messages with someone interesting. Maybe with a Zach, a Sue, a Bret, a BreZach. Doesn't matter. What does matter is that BreSueZach stands out because you're a little excited to see yet another response to your response.
And because you're on Mesh, of course it's a far cry from an unsolicited dick-pic or "HEY A/S/L WANNA MEET 4 A BEER" proposal. In fact, so far it's been the opposite sort of exchange – quick, easy, charming, maybe a little funny with hints to lots more under the surface. You've started to identify a pattern of personality in SueBreZach that you're beginning to feel a warm fuzzy regard for, and it's brought you back to the dialogue box a little more eagerly than expected.
Except let's also say that this time the way you receive BreSueZach's messages is just a little less positive. Because while it's nice, you also realize it's been like this for a little while.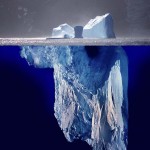 This happens all the time and is almost certainly happening at a bar near you, right now. Someone's starting to get the feeling that a prospect – who's maybe perfectly nice, great, whatever – isn't doing it. BreSueZach's style of cues and advancing just isn't jiving with the game, and doesn't seem to be leading towards chemistry. Maybe that diminishing feeling's a sign to find another stream of interest in the dating pool.
Well, welcome to dating.
It'd be crazy to never expect this moment (keyword: moment) when getting to know someone, because what we're describing is an instant of someone's drive for escalation not being fulfilled. It's always more exciting and nice – even awesome – when Sues and BreZachs read into the right messages, find the right subtext or flirts, swoop in at the right time to exchange info or lay a solid "Hey we should meet!"  Maybe if that happened here, SueBreZach would be golden.
This isn't exclusive to online dating, just more apparent if there's a digital record with every bit of text that broke the ice.
So what to do? Or rather, what will the best deciders in us do?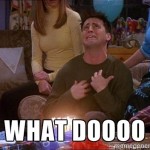 Well it's just as easy in the big city as it is online to compare and count your lack of chemistry, and move on. And because you can – because of abundance – it might be perfectly natural to realize how romantic it would be to come across someone who's bolder or more confident.
Yet a focus on those comparisons is why so much metropolitan dating explodes in the hangar, and doesn't work out: having so many options waters down prospects, making it easy to devalue them enough to not warrant the work or risks that come with dating. Interested people wanting to stand out can also feel like it's a lot of pressure to prove that they're a fabled unicorn within some immediate window of contact, then explode themselves in the hangar.
And in his book The Paradox of Choice, psychologist Barry Schwartz also points out how any person swimming through too many choices without a clear focus of what exactly they want– even when making decisions about great things like vacations – will experience dissatisfaction, unsure behaviors, and that general wagon-full of neurotic bull. It definitely affects a preference towards a face or personality when we can click or walk down the block then take in way, way more than ever before. In this way, so many end up simultaneously over and underwhelmed with their dating scene.
With regards to SueBreZach, it might be easy to figure how there's probably another chat box out there that would stir interests better. But with that realization, whoops! There goes that urge to keep up that engagement. Sure, maybe that's the best decision, but is it possible that down the line you'll also realize you don't like the bolder person either and possibly skipped over real satisfaction?
To keep that from happening, Schwartz proposes clear, practical common sense – something so many forget to maintain in a dating scene for some reason – that leads to the decisions people are most satisfied with. In this way, the best decision makers use their rationale to focus in on – and not devalue – the choices their gut told them could be an interesting.
In terms of Meshing, this means you'll ask yourself what you actually want. Maybe you want many things, and that's fair. You'll then weigh the actual importance of those things (let's say you're 5'2 – is their being 6'4 really that important?) You'll look at your options, weigh how likely prospects are to meet your actual goal, and then you'll choose which option meshes with your vision.
If you take these steps, then realize SueBreZach does interest you but that you only wished things would heat up, there's always that decision for you to move the small talk into "So what'll I have to do to meet in person?" Someone interested in providing what you want won't be put off from you going after it, after all.
And of course you might like your other options better than taking the initiative or getting more flirty. If so, of course it's smart to move onto those!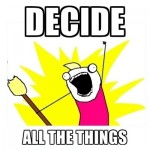 The point is: Don't avoid option overload by only putting stock into convenient pitches, instead of focusing in on what actually interests you.
And when it comes to metropolitan dating remember, researchers like Schwartz have books and books about how taking the passive approach towards options (letting prospects float along then hoping the cream rises to the top) is the surest way to get and keep you stressed and oversold.
Because dates and dating do mean dealing with the most complicating things – people.
And everyone knows that when it comes to dealing with people, trifling nuts will float to the surface more than the cream, anyway. Come on, that's why the overly aggressive guy at the bar exists, it's why he's so noticeable, and definitely why you're best off when you know how to move towards what you want instead of hanging out by his zone.
(On the plus side, helping to smartly choose through options without that guy is exactly why people are on this site in the first place.
And also just what Mesh is for, and very good at.)