Dating during the time of texting has made courtship easier… and messier. On the one hand both parties have the ability to virtually and rather non-intrusively check in whenever they want. But on the other hand — what in God's name did that text mean? The phrase lost in translation has rarely seemed so apt. Below we attempt to outline some common texts and timing of said texts and what they might mean for your blooming (or rapidly decaying) relationship.
The Morning Wake-Up Call:  
A chirpy 8 am ping — unless it's a reply to a forgotten late night text — often means more than a simple top o' the morning to you. Rather, this move actually takes great confidence. A pre-breakfast good morning is practically the text version of a promise ring. The person *likes* you. A lot.
The 2pm Windbag: 
You're hard at work while some dude you've gone out with twice is making your phone vibrate with tales of his morning coffee machine drama. While it's possible he misses you so much he can't face lunch without a gab session, it's also highly possible he thinks his life is much more interesting than it actually is and would gladly tell the Starbucks barista the same stories.
The Late Afternoon One Word Initiator:
"Hi." That's it. Just "Hi." This is the text message version of a drive by; let's see who's home and might be able to come out play. It's fine to promise little and flip through your mental files to set up a casual whatever, but the one word text is insecure at best, lazy and uncreative at worst. Next.
The Early Evening Album Collector: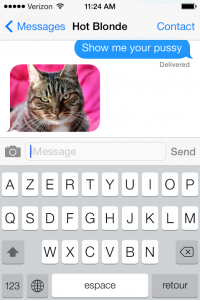 True perviness knows no time and place, but perviness confined by social restraints probably won't ask for a skin-baring selfie until they know you're off work. This selfie-loving texter has likely had a drink or three, and it's also possible this is the first time said texter has thought of you all day. Beware.
The Round the Clock Rapid Responder:
The texting version of Johnny on the Spot is never a bad sign when dating, although rapid responders tend to be more conscientious in general then those who aren't. It's likely he's on top of work e-mails and bill paying, too. Tip: what's his phone style like when the two of you are together? Does he put it away or is he constantly hen pecking away? This is a good indication of interest versus phone addiction.
The Radio Silencer:
Meet the Dr. Jekyll to Round the Clock's Mr. Hyde. This guy always replies … 15 – 72 hours after you text. Annoyingly, your affections triple during these torturous hours of neglect and the cycle continues when you continue to reply. Deep down you know nobody is too busy to text in a timely manner and deep down you know it's time to delete this one for good. Let them pop up on someone else's screen.

The Text Buddy:
You went out once or twice and thought it went well, but haven't seen them since. The communication is surprisingly friendly and witty, but your hints at drinks are skillfully thwarted. Sure, the universe may have set you up with a prospect whose schedule is completely opposite to yours, but it's more likely they're using you for an ego boost until they meet someone they'd actually consider dating.

The Booty Call:
Any text inquiring your whereabouts after 10 or 11pm is a booty call. This is a truth almost as constant as the rising sun.  This is especially true of texts that start with "This isn't a bootycall, but …"