There's a theme to this week's events: comic books and acting out in toddler-like defiance to the "storm of the century" (so shut up about it, Mom.) Strap on your winter boots, grab a flask of something warming and LET'S GET OUT THERE!
The Hall Brooklyn, 470 Driggs Ave, Doors open at 6:00 PM, $15 GA/$35 Crawfish Platter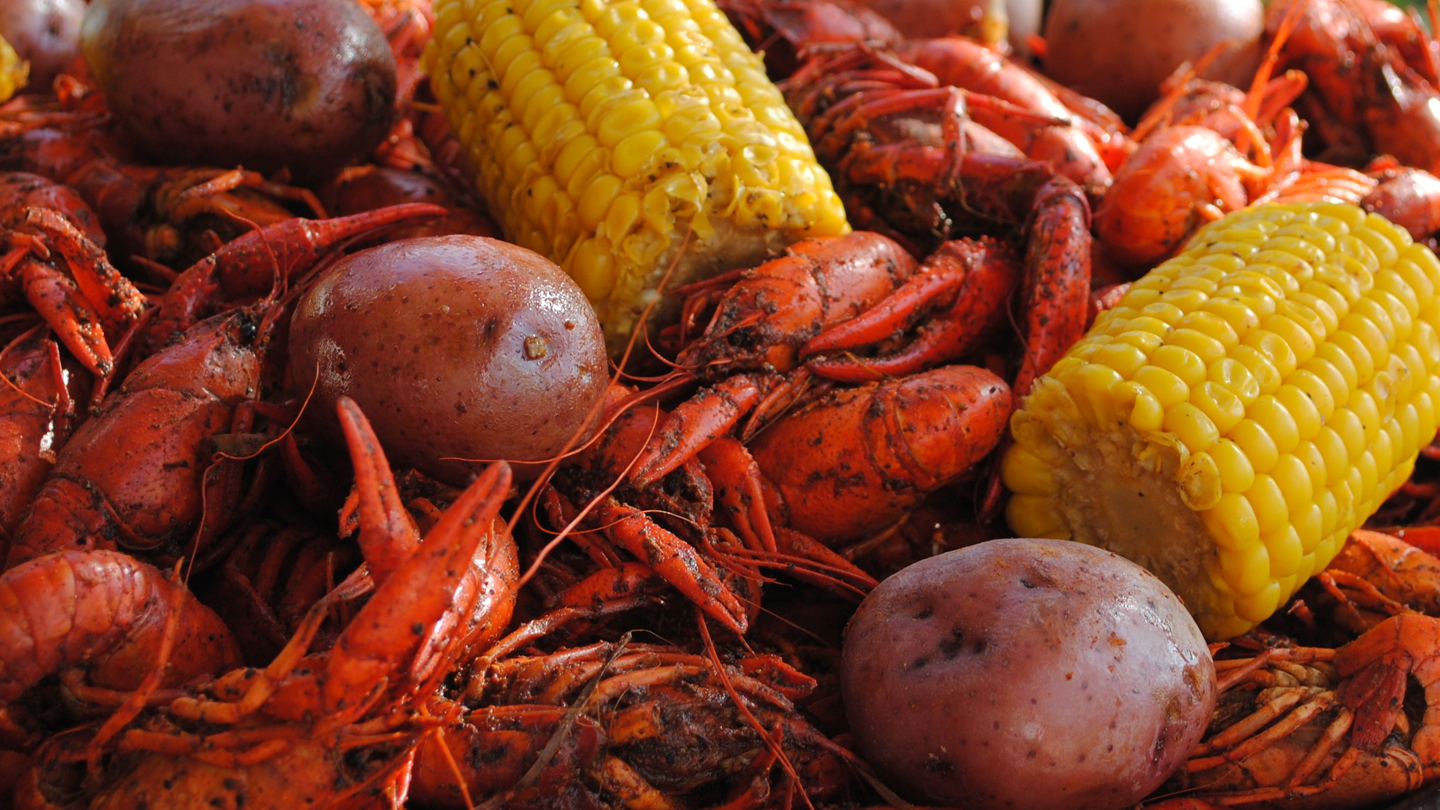 I have to admit it: as a former Catholic I did a frantic, guilty google search: "Marti Gras 2016." But no, I didn't miscalculate the start of Lent, I simply didn't know that there could be a crawfish boil series (Sweet Lord.)
Alongside the… crawfish boil… (I'm sorry, I really can't stop looking at that picture and fainting with hunger) there will be 2-for-1 drink specials, dancing, and a New Orleans-style brass band playing long into the night.
Interference Archive, 131 8th St. No. 4, Brooklyn, 12:00 PM – 2:00 PM, Free

Are you an artist? Do you think your ideas are interesting enough to put to paper? Do you just like comic books and want to know more about the production side? Come to "Vulnerable Paper, Loud Speech Bubbles," a free DIY comics workshop!
This class, led by Vienna-based puppeteer, sculptor, and comic book artist Nina Prader, is part of the amazing-looking exhibit Our Comics, Ourselves: Identity, Expression, and Representation in Comic Art, which you should absolutely check out after you and your date enjoy learning about bookmaking techniques, printing, and distribution.
Various locations around Manhattan, 2:00PM – 10:00 PM, $30

Ace of Base. Nirvana. Green Day. Being relentlessly bullied. Oh what wonderful things the concept of the 90's conjures! Ignoring that last bit, this bar crawl sounds like a lot of fun. Sick of hearing how it's gonna snow all day on Saturday? Stick it to the snow! Get out there and crawl it up, NYC!
Some stuff you'll get along with your $30:
mug
cheap alcohol
90's music all day
Sadly, "date with Hanson" isn't on the list, but that's ok. They've all got like 8 kids a Hanson now anyway.
Freddy's Bar and Backroom, 627 5th Ave, Brooklyn, 4:00 PM – 8:00 PM, Free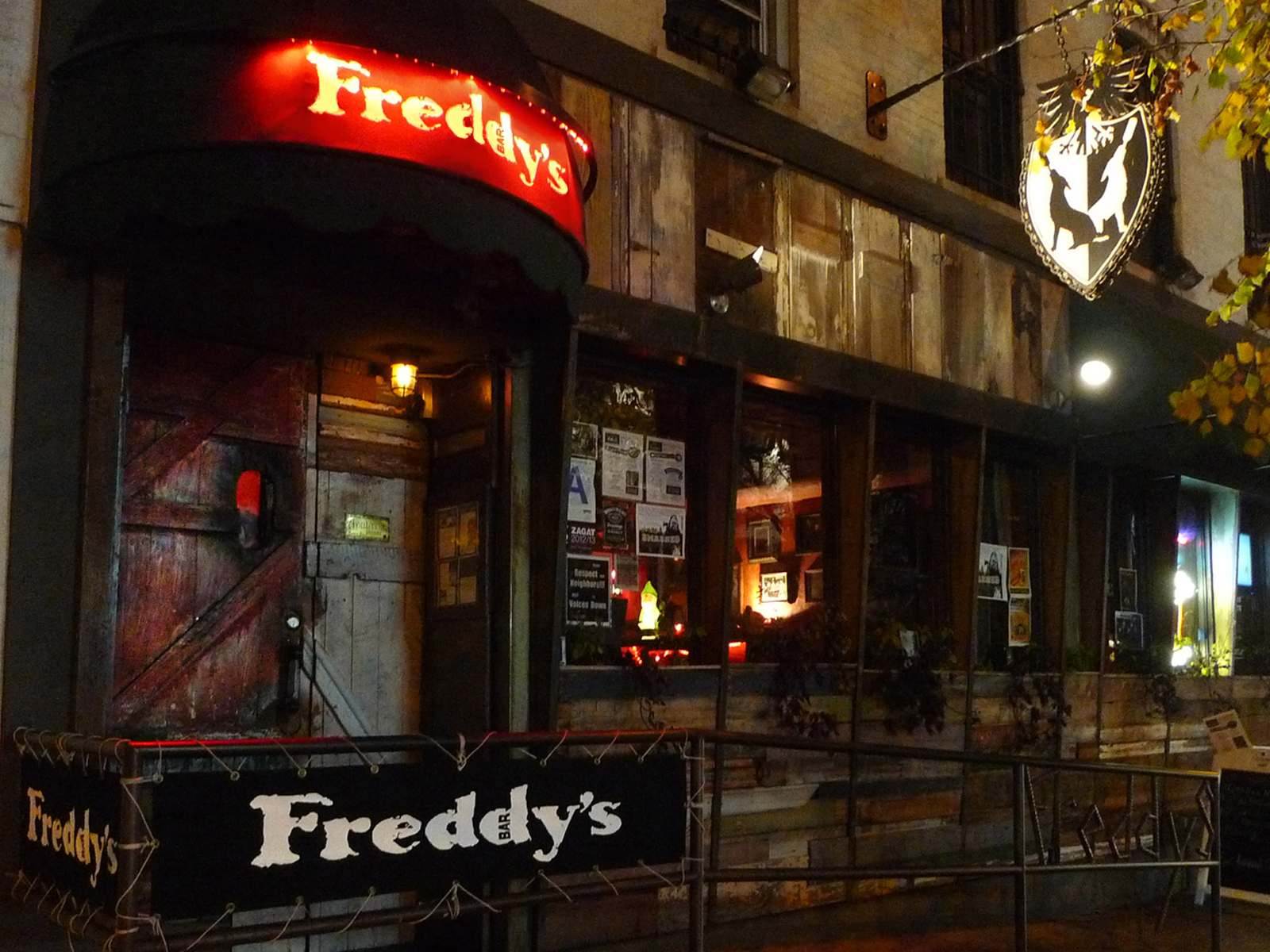 Look, Freddy's is just a place you should be going to, and this is a really fun excuse to get over there. Not only is the bar itself a trip- it's been around for over 70 years, has super yummy burgers and fries, and it's got a damn fish tank FULL OF FROGS in the back- but it's also the host of a ton of great live music, comedy, and performances.
They also host Obsolete Cinema, a group who shows old movies monthly along with their happy hour specials, which sounds like the perfect thing to do on a snow-covered, chilly Sunday afternoon. The theme for this month is "Game Day!" and boy do they have some late 70's doozies planned for it. Remember when Paul Newman was more of an actor than a face on salad dressing? Neither do I, which is why this event sounds so enticing.
Demolition Depot and Irreplaceable Artifacts, 216 E 125th St, 10:00 AM – 6:00 PM, Free to Look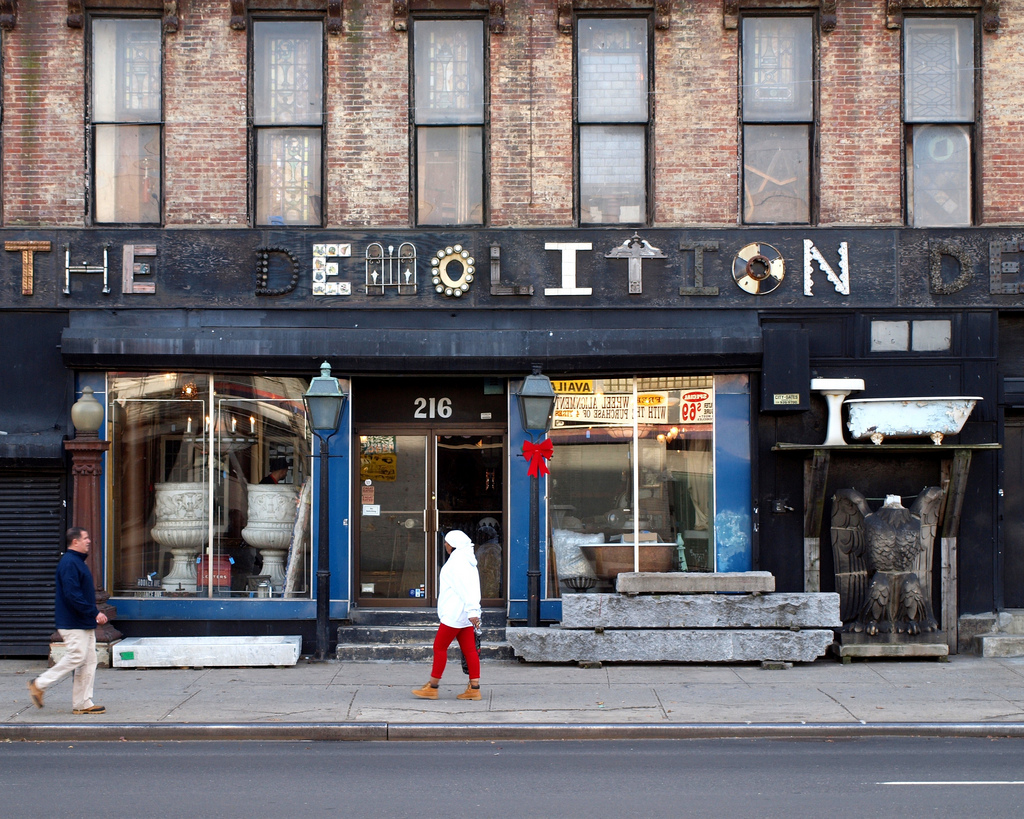 When I saw that the Park Slope Armory was having a big fancy antiques event, I wanted to let Mesh Blog readers know about it… buuuut I don't know if you all have $2,500 to spend on priority coat check, so I decided to find something a bit more humble.
Not too much more humble, though- despite its wacky exterior, Demolition Depot can be very expensive, so take your time wandering its 4 (!!!) stories, see if you find something you absolutely must have, and let the experience be the experience rather than expecting to find something you can afford. If you're lucky, you might get to spot one of the multitude of cats that wanders around the store!
PIT Loft, 154 W 29th St., 9:00 PM, $5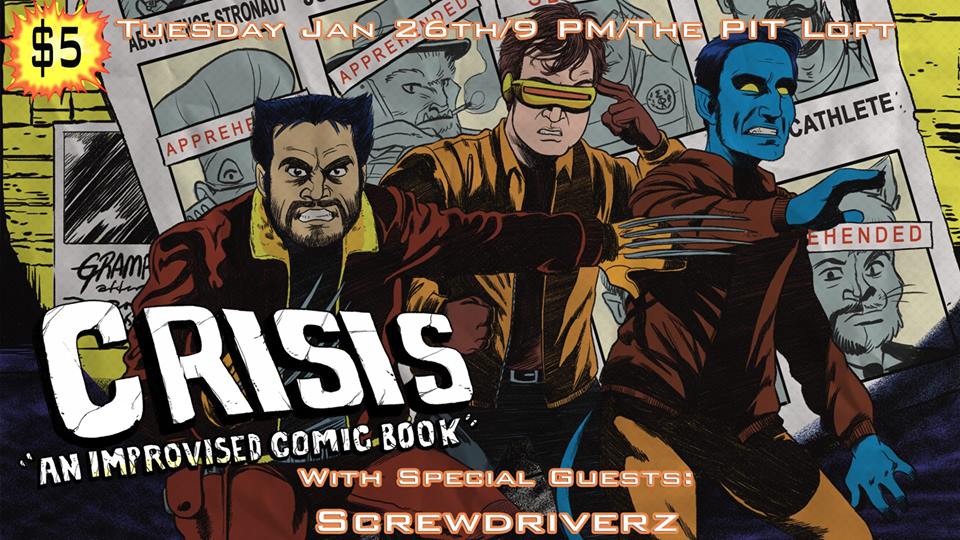 Two things New Yorkers love: improv and comic books. At least, that's what the insane sell-out attendance of Comic Con and the fact that a FIFTH improv company offering classes just opened (welcome to the family, Reckless Theater!) leads me to believe.
Well, it's finally time to enjoy these two phenomenal art forms together. Crisis has been around for over a year now, and they've come to master the art of creating a fantastic new comic book story based on an audience suggestion.
Spoiler alert: one of the members looks and sounds almost exactly like Ghostbuster-era Dan Aykroyd. WHICH ONE? You'll have to check out the show to find out!
Koenig & Clinton, 459 W 19th St, 11:00 AM – 6:00 PM, Free 

This exhibit, comprised of experimental photography by German Jürgen Klauke, shows the artist in various subversive forms, questioning ideas such as androgyny, sexuality, and identity. This is a great opportunity to check out one of the many excellent small art galleries in Manhattan. You can make an artistic afternoon of it, also checking out the gorgeous Hiroki Tsukuda exhibit at the Petzel Gallery a few blocks away.
Your date not so into free, contemporary art? Chelsea Market's a few short blocks away. Anyone can be tempted into sophistication with the promise of a lobster roll.
The Studio Theater, 250 Bedford Park Blvd, 6:00 PM – 10:00 PM, $7

$7 doesn't get you a lot anymore. It gets you an IPA at most bars, not including the tip. It'll get you most of the way to a Crunch Wrap Supreme meal at Taco Bell. It'll get you two 2 Broz "2 slices and a coke" specials.
(sidebar: does anyone know why my pants don't fit me anymore?)
It will also get you in to a night of really innovative, interesting film in the Bronx. Thursday's fare illuminates the brain life of a dancer with Parkinson's, the work of a landscape artist, and a Spanish take on Hitler's invasion of Leningrad.