From Passover and egg-hunting to Latin films and a good ol' Monday cocktail party, we've got your best city picks for what do this week, whatever you'll be celebrating.
Schomburg Center for Research in Black Culture; 6pm-9pm; FREE
Dust off your shoulder-baring sweaters and neon tights for this flashback night of culture, tunes and dancing. After your best Flashdance routine, sip signature drinks and chow on the best bean pies in town, courtesy of Brother's Soul. Plus, enjoy extended viewing hours through the Center's galleries including two new exhibits. (Be sure to get their early since events usually fill up quick.)
EST, 549 W.52nd St.; 7pm; $20 general, $15 students
In a city like New York, love at first sight can happen so quickly. Witness the lives of two people unfold as they experience various romances on a train moving through time. Playwright, Christopher Sullivan and director, John Giampietro, invite you to join the ride for the last night of this original performance.
Clemente Soto Velez Cultural Center, 107 Suffolk St.; 11am-4pm; tickets start at $10
This ain't a game for just any bunny. Roll up your sleeves and tighten your laces for an Easter celebration unlike any before. Dare to enter a caged field and compete against three large Bunnies to collect as many prize eggs as you can in 40 seconds. Play "Shoot the Peep" paint ball, take a picture with the Insult Bunny or joust Little Bunny Fu Fu before riding on an oversized mechanical rabbit. Peter Cottontail better watch his furry behind.
126 Front St., DUMBO; 7pm-10pm; $30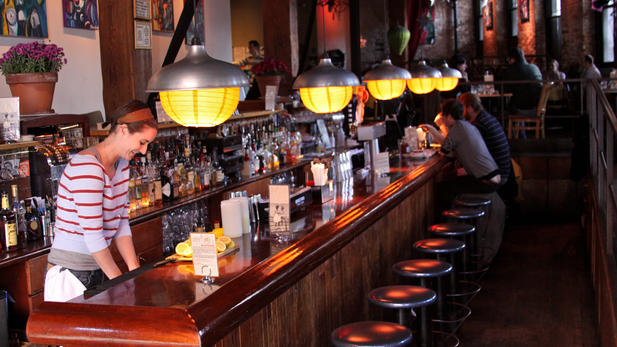 Raise a glass to the beginning of sunny-park-season (and the end of Monday) with a chic night out. Tickets include two drinks, a tasty spread of hors d'oeuvres and raffle entries for a chance to win goodies from beloved local Brooklyn vendors. All event proceeds will benefit the Conservancy and help keep the Park's free events and activities, free.
Museum at Eldridge Street, 12 Eldridge St.; 2pm-3:30pm; $25
Save your afternoon appetite for a taste of the LES' best Jewish eats.  Embark on this historic cultural tour of the neighborhood and learn about traditional Passover rituals while feasting upon Streit's Matzos (their last Passover at the historic Manhattan factory!), Economy Candy and more.
SHWICK Market, 6 Charles Pl., Brooklyn; 7pm-9pm; $8 advance, $10 at the door
Want to get your hands dirty on a new creative hobby? Try this 101 on screen printing to learn how to customize your own t-shirts, totes and fabrics. Learn the basics of making a screen, setting up to print, loading, printing and heat pressing. Then, craft your very own tote bag with your fave design to take home and wear with style.
Various locations and times; individual tickets start at $12 adults, $8 students
Come and take a seat at this 16th annual film fest celebrating Latin American Cinema. For culturists and cinephiles alike, enjoy free panels and presentations—including homage to Gabriel Garcia Marquez—alongside a variety of feature films, documentaries, new cinema creations and children's tales. Plus, view the nominees for both the Fiction and Documentary competitions and see which picture triumphs.