Forecasts say the weather is soon to be officially in the 50s'–three cheers! Time for you to heat up date night with this week's best places to be, from a day with cartoons and a night with Bob Saget, to German films and secret worlds.
Wythe Hotel, 80 Wythe Ave.; 9am-7pm; tickets starting at $5
Take a bite out of this fourth annual smorgasbord of literature, food for thought, chefs, authors, and plenty of delicious to go around. Join the conversation on food labeling, turning your passion into business, and learn what the deal is on Chinese food in America. Then, dig into demos, indie food zines, cocktails, oyster hour and even a literary dinner.  Through April 12.
Center 548, W.22nd St.; 11am-6pm; $5
This year's MoCCA fest celebrates a weekend of local artists, illustrated puns, and graphics galore. Stroll through the Center's three floors of exhibitors and original art galleries while meeting cool artists and designers. After, head two blocks over to the High Line Hotel for panels on mastering a memorable image and sneak previews of upcoming graphic novels.
MCU Park, 1904 Surf Ave., Brooklyn; 12pm-3pm; $10 
Spend a sunny afternoon in Coney Island cheering on the best of the best in disc throwing. Two-time American Ultimate Disc League (AUDL) semi-finalists, New York Empire, battles Montreal Royal this Opening Day so grab a Cyclone chicken sandwich and Nathan's fries and snag your seat.
Cinema Village, 22 E.12th St.; 4pm-10pm; $12, some events FREE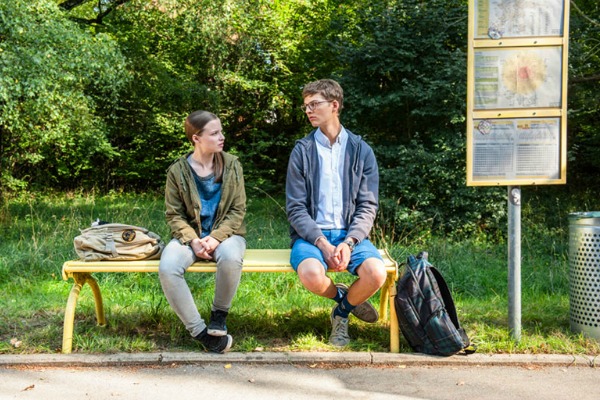 This second annual independent film fest (which kicked off Thursday) showcases ten feature-length films, a collection of short films, and a curated schedule of events with filmmakers, actors and more. Tackling themes of anxiety and the challenges of youth, come see how the deutsche celebrate and explore the world of cinema. Through April 16.
Madison Square Park; 6am-midnight; FREE
American visual artist and landscape designer, Paula Hayes, debuts her first outdoor exhibition via eighteen transparent spheres, each holding a different world. Inside each globe, Hayles plays with the use of vintage and up-cycled materials, industrial remnants, and her own crafted "fairy dust" to bring both present and future cultures together in one space. Wander through this forest of worlds before it disappears. Through April 19.
Le Poisson Rouge, 158 Bleecker Street; 8pm-9pm; $5
Kick-off your hump day evening with this stellar cast of funny women dishing on feelings, funnies, and plenty o' stories. Hosted by Caitlin Brodnick—a Moth StorySLAM winner—and featuring Jo Firestone (UCB), Katina Corrao (Comedy Central), Aparna Nancherla (Conan) and Lisa Kleinman (UCB), you can count on laughing so hard that your IPA spews out of your nose.
Best Buy Theater, 1515 Broadway; 7pm; tickets starting at $24.50
Two words: Bob Saget. Come see what the Full House vet is up to now at a night dedicated to our favorite American television show host. Joining the director, producer, actor, author and Grammy-nominated comedian, is Brendan Eyre, a Brooklyn based UCB comic who says he's barely 30, but has been sober since his early 20's. Time for a group hug.