Still figuring out your Halloween plans, Meshers? Fear no longer. We understand if you don't feel like dropping the dough on a Webster Hall ticket. Or if you're craving more blood-and-gore zombies than sexy cops and witches. Even if you're just in it for the candy this year (hey, Netflix and chill with a party size bag, amirite?). So we've scoped out all the haunting happenings in the city this weekend and narrowed down the best scenes for everyone. Whether you're down for a midnight dance party, an outdoor horror movie, zombie-themed cocktails, or really anything as long as it's under ten bucks, we've got your Hallow's Eve covered. -cue evil laugh-
If you want some Halloween history…

Brooklyn Brainery, 190 Underhill Ave.; 6pm-7:30pm; $12              
Wanna know why we ask for candy on Halloween in the first place? Get the deets on sweets at this educational talk from the roots of sugar cane to the magical, medicinal candy of medieval Europe. Led by historical gastronomist Sarah Lohman, the evening will also cover the the origins of Halloween candies, including old myths, and, of course, lots of sticky, sugary, samples. Lohman's work on the histories of how and what we eat has been featured in The New York Times, the Wall Street Journal and the American Museum of Natural History.
If you love Japanese pop culture as much as you love Halloween…
Japan Society, 333 E. 47th St.; 7:30pm; $25 (call to reserve tickets)
Dive into this "candy-coated cabaret" featuring the New York debut of sister pop duo, Charan-Po-Rantan. With 26-year-old Koharu on accordion and her 22-year-old sister on vocals, the two spin a tune of pop meets gypsy meets covers of retro Japanese popular songs. Enjoy the show with an evening cash bar, opening New York jazz combo, The Red Birds, and a post-performance Halloween fete with signature cocktails. Come dressed in your most colorful costumes, plus arrive early for free admission into the center's gallery exhibits.
If you love zombies…
Lot 45, 411 Troutman St., Brooklyn; 8pm-4am; $15-$30
We're talking the real deal here. Get gory and enter to win $100 in cash and a bottle of champagne for the best dead get-up at this Walking Dead-come-to-life bash. If you're blood-thirsty for more sores, get your tickets to the zombie beauty bar or stroll as you are through the haunted alley for ghosts and ghouls. Performances by the Ill-Fated Natives, J.A.W.S, The Dandy Lions, and Willey + Kid Zee will be centerstage while DJ sets play music all night and tarot card readings reveal who you'll be biting next.
…or dancing to Thriller
SPiN New York, 48 E. 23rd St.; 9pm-2am; FREE
This ping pong social club teams up with Urban Dance League for the ultimate MJ classic dance-off. Fuel up on sliders, shakes and 'dogs then prepare to watch some of the best dancers throw down their top Thriller moves for $500 in prizes. Don't forget to dress up!
If you know The Time Warp by heart…
McCarren Park Pool Deck, Brooklyn; 6pm-7:45pm; FREE
Kick back with this Halloween must-do and catch a night screening of this cult classic musical-comedy-drama. Bring your blankets and candy corn to the park early to snag the best seats, then get ready to see Susan Sarandon and Tim Curry cross-dress, sing, and dance with the fabulous cast that is The Rocky Horror Picture Show. 
If you hate commercialized costumes…
Littlefield, 622 Degraw St., Brooklyn; 10:30pm; $5
Pre-game your Eve to Hallow's Eve with the best of 80s and 90s tunes at this party, hosted by our friends at the skint. Get down to DJ Steve Reynolds spinning all night while Music Video Time Machine throws up your old favorite slasher films and music videos on the big screen. Dig into piles of candy and $5 cocktails, print some spooky snaps at a photo booth and, most importantly, come costumed to your desire. From slutty mice and bed sheet ghosts to Pizza Rats, all are welcome here, no questions asked.
…and prefer dogs in costumes
Battery Park Esplanade; noon; FREE
Who doesn't love a good four-legged creature dressed like another furry animal? Or a taco? Or a pop star? If you missed the annual Tompkins Square canine cahoots (or are just a really big dog person), stop by this pooch parade for adorable overload. Prizes will be awarded to the best costumes, dog and owner combos and tail-wagging.
If you REALLY just want a burrito…
Any Chipotle you can find; 5pm-close; $3
Dress up in any costume, stick on a creepy additive (read: anything that does not belong), and head on down to your local Chipotle for a $3 burrito, bowl, salad or taco order. Up to a million dollars in proceeds will go towards the Chipotle Cultivate Foundation, a non-profit focused on food health and sustainability. You're welcome.
If you're a big Shaun of the Dead fan…

Videology, 308 Bedford Ave., Brooklyn; noon-4am; FREE
For one day only, this 'Burg bar and cinema is reborn as SotD's Winchester Tavern, complete with brit pub food and zombie themed cocktails. Seek refuge from the flesh-eaters while enjoying $4 Sixpoints all day, pool, darts, photo booths, and the Edgar Wright flick on loop. Plus, hit up the zombie make-up artists starting at 5pm then jam out to a live DJ until late.
…or dressing up as your musical idol…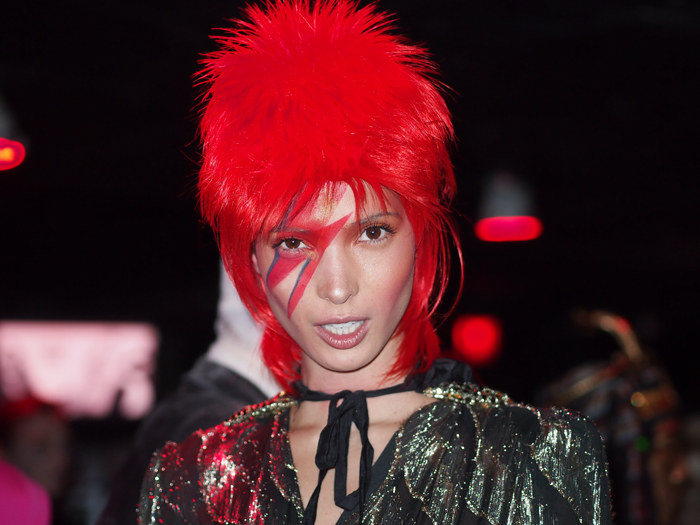 Passenger Bar, 229 Roebling St., Brooklyn; 8pm; $5 suggested donation
You know we can't resist a good burlesque show. Join Mister Murray Hill, Gigi Bonbon and Poppy Tart for an evening of shimmying in and out of costumes. Re-live old music videos with retro replay sets from The Guide to Teenage Popularity and enter your best musical idol look for a chance to win a guitar or sweet bar tabs. (Warning: competition will be fierce.) Sip Halloween-inspired drinks like vampire punch vodka cocktails, and munch on empanadas and truffle cheese pretzels.
If you want a more cultural Halloween party…

835 6th Ave. and 29th St.; 10:30pm; $10
Summon the imperial ghosts of Portugal's past with libations, intrigue and drink specials at this Portuguese eatery. Hosting its first Halloween, Lupulo will be throwing a masquerade ball, complete with pig heads on silver platters and live DJs setting the mood.
…or a southern jazz Halloween party  
Minton's 206 W. 118th St.; midnight-3am; $10
Give your Halloween a little southern twist this year at this Harlem jazz club's late night shindig. Starting at midnight, jive to live music by Benny Benack and the Creole Swing Band while noshing on bites and specialty cocktails. Costumes are highly encouraged while dancing shoes are a must. Prizes for the best get-ups.
And if you still want to party after Halloween…
Maria Hernandez Park; 12pm-5pm; FREE
A Day of the Dead, Halloween, harvest mash-up, this outdoor day fiesta is a slice of fall festivities. Carve pumpkins, shop a mini-farmer's market, and enjoy live music and dance performances all afternoon. Plus, taste an array of Peruvian food, scope out cooking demos and how-to-compost workshops.